2004 Volvo VNL64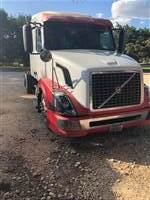 Truck Information
2004
VNL64
Volvo
Diesel
735000
Boerne, TX
$24,000.00
2004 Volvo VNL64 450 HP Volvo/Detroit engine. 12 Speed auto transmission. 90% tread on new tires all the way around. The truck is strong and very dependable. It has been used for the last 10 years to haul a 7-horse trailer. Set up to haul a gooseneck. Has a sleeper in the truck. Red trim paint is fading which is the only flaw.
Contact Information
Todd Martin
210-825-1114
210-825-1114
todd@toddmartin.net
http://www.toddmartin.net
1338
Do You Want to finance this truck?