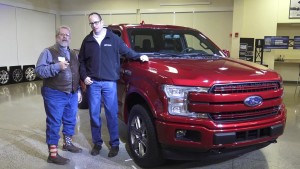 Ford F150 2018 Introduced in Detroit
I just got used to the Ford F150 for 2017 with the new second generation Eco Boost 3.5L twin turbo with more power, dual injection and 10-speed auto tranny. But Ford flew me to Detroit to take a peek at the 2018 F150. Course it will be on sale this fall, but January seamed early to be looking at 2018. It was an embargoed news release and I was lucky enough to get to video an interview with the new Ford Truck group Marketing Manager, Todd Eckert. Eckert replaced Doug Scott whom retired from Ford after 38 years. Lots to celebrate with Ford this year as the truck sales leader for 40 years going back to 1977. I owned a 1977 F250 so I guess I started it. Farther into the future Ford did confirm that a hybrid F150 is coming in 2020.

Now sure for 2018, there's a new grill, seven of them, new interior, new tailgate, bumper and headlights, but there's new real drive-trains and that's what makes a new truck. Yes a Power Stroke 3.0L V-6 diesel we've been hearing about is coming as an 2018 model though it won't be available until next summer. It will be built in England at a Ford Plant producing V-6 diesels for Land Rover. The 5.0L V-8 is still in the lineup with more power, 2.7L V-6 Eco Boost and 3.5L V-6 Eco Boost are back, the 3.5L naturally aspirated is gone being replaced with a 3.3L V-6 with the same power. The 3.3L V-6 will be the new base engine, the other 4 engines all get the 10-speed auto transmission and stop-start technology for fuel savings. I've had the chance to drive the all new 2017 Raptor several times now and it has Start-Stop but with an off-button.
More power, higher towing and probably better MPG. They won't tell us numbers yet. Six new wheel options (from 17-22 inch), with 5 trim levels XL, XLT, Lariat, King Ranch and Platinum. More safety with automatic braking with pedestrian detection and the optional adaptive cruise control works in stop-and-go traffic. 2018 Ford will have Wi-Fi hotspot in the truck for 10 devices. Don't you love electronics!
Driving a Ford 2017 F150 in our Rockies with the 2nd generation 3.5L V-6 Eco Boost and 10-speed auto tranny. The tranny is smooth, fuel mileage improved 2 MPG. I towed a 9000 lb trailer from Dillon to the Eisenhower Tunnel on I-70 at 11,000 ft. with 7% grade with TFLtruck.com and the truck would accelerate at anytime on the run. The twin turbos in Eco Boost excel at altitude.
YouTube 2018 Ford F150 review