Improving your Trucks Transmission and Air Filter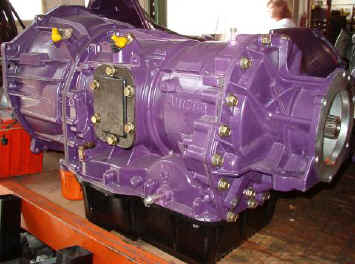 Pickup truck diesel competition just keeps getting better.

Dodge has announced starting in December 03 built diesel 2004.5 Dodge 2500/3500 Ram trucks, will have an increase in horsepower to 325 and torque at 600 lb.-ft. These HO Cummins 5.9L diesels will also be 50 state emission certified. GM also has increased power for the first time since birth in 2001 with the Duramax diesel. Using a variable intake turbo similar to what Ford introduced in the 2003 in the Power Stroke diesel, the GM Duramax increased horsepower to 310 and 590 lb.-ft of torque. It's amazing that Dodge and GM reduced emissions while increasing power. We're use to seeing it the other way around.
With all this power in pickup truck heavy-duty diesels, automatic transmissions, which are the majority sold, need to be heavy-duty also. With an automatic transmission, the torque converter is the weakest link as is the clutch with a manual transmission. ATS Diesel Performance of Wheat Ridge CO has auto transmission upgrades and kits to improve the power and reliability of your transmission behind today's powerful diesels. Clint Cannon co-owner of ATS is heavily involved with field testing his transmission modifications. You will see his ATS banners on many trucks racing at Bandimere Speedway as well as several truck races and truck pulls around the country.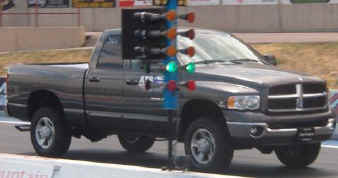 When I was at ATS doing this article back in October, there was a brand new 04 Dodge 3500 dually getting a transmission performance makeover as well as the brand new 04 GMC 3500 dually. Folks who tow large trailers for a living realize the limitations factory auto transmissions have. When I was a kid, there were very few auto's in pickup trucks on the farm. In a soft field if you didn't have 4x4, an automatic transmission had trouble getting started pulling a trailer. Then when manufactures stopped using asbestos in clutch pads, we lost some trailer capacity with manual transmissions.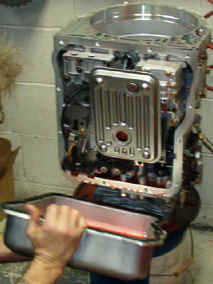 The GM Allison and the Ford TorqShift have external auto tranny filters as well as the screen filter shown above that all automatic transmissions have.
Today's auto's have lockup torque converters, which mechanically engage like a clutch and pressure plate in a manual transmission. And the stator in the torque converters multiplies the torque coming from your engines flywheel. All this adds up to most trucks having a higher tow capacity with an automatic transmission over a manual. Diesels have close to twice the compression as a gas engine. You really notice this when shifting a diesel with a manual transmission, you have to shift faster or synchronize your shift with the engine rpm's.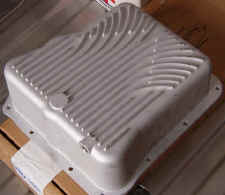 Aftermarket pans above like this one from PML, will give your trailer towing truck more oil capacity and ribs to keep your tranny oil cooler. They also have a drain plug and access for a temperature sensor.
Below is the factory pan on an Allison Automatic 1000. For some reason the drain plug is recessed, how do you get the sludge at the bottom to drain out? Note the spin on transmission filter.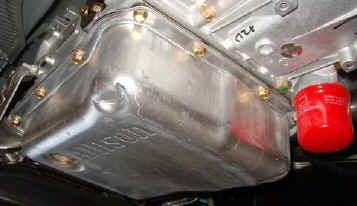 An automatic takes the work out of driving a diesel, and easier on the animals you might have in your trailer, along with less effort in backing up. Ford's TorqShift and GM's Allison Automatic have 5 gears which will all lock up the torque converter, making an auto handle similar to a manual transmission, downshifting on the fast side of our mountains. The Dodge new 48RE 4-speed automatic transmission, introduced last year will lock up the torque converter clutch in 2nd, 3rd and overdrive now. One gear more than the 47RE it replaced.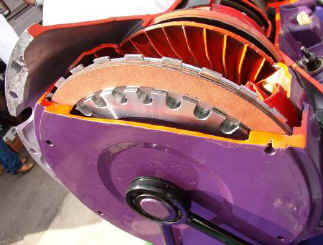 ATS Diesel Performance TripleLok™ torque converter (cutaway above) has 3 times the clutch surface in the torque converter to keep powerful diesels from causing auto transmissions from slipping and building up heat. The Billet cover and lockup clutch piston doesn't warp like the factory stamped cover and stamped piston.
ATS makes a performance automatic transmission kit for all three diesel brands. I was there when they were upgrading a 04 Allison LCT-1000. Clint Cannon has developed the kit for the Allison to run more horsepower and torque threw it without causing the fail safe code to de-fuel your diesel engine and shut you down. Some of Clint's modifications include, changing a spring in the valve body to keep line pressure up, adding clutch discs in clutch packs, improved valve body, Copilot™ for changing trim pressure, changing torque curve, and the famous TripleLok™ torque converter with billet cover and piston.
All this can be controlled automatically or choose different settings with the electronic controller (shown below), to controlling timing and converter lockup. So now you can handle more power from your diesel, keep your auto transmission running cooler and lasting longer pulling the big trailers. Controlling torque converter lockup, can give you more power by not loosing rpm between transmission shifts as well as a cooler running transmission. Clint Cannon says his Allison upgrade is capable of handing 600 rear wheel horsepower and 1400 lbs-ft torque. Makes your mouth water don't it? ATS Diesel Performance makes transmission upgrades to help your Dodge, Ford or GM truck. They are well known for their improvements to all three but have been a dramatic choice for to the life of Dodge automatic transmissions used to pull heavy trailers.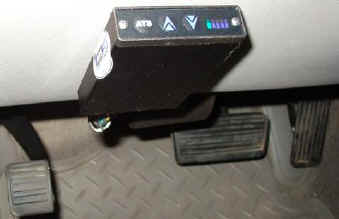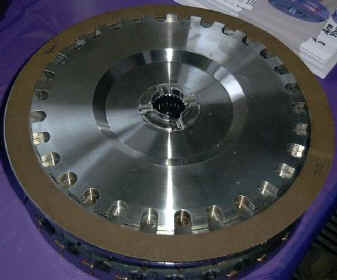 Above is inside the TripleLok™ torque converter, a billet piston won't warp from the heat and the larger tabs keep the converter clutch from "rocking" at idle. Look at a stock Ford auto tranny torque converter behind a diesel, and you'll see small tabs that wear from the "rocking idle" that diesel do. The ATS TripleLok™ torque converter has 3 discs to lockup the torque converter. Stock transmissions have one. This is the weak link in a stock automatic transmission pulling heavy trailers.

click on pictures to enlarge
The complete Allison LCT-1000 transmission upgrade from ATS has added discs in clutch packs (above) a heavier spring for increased line pressure, along with valve body modifications electronics and more.
| | | |
| --- | --- | --- |
| | | |
| Torque converter | Valve Body | Line pressure springs |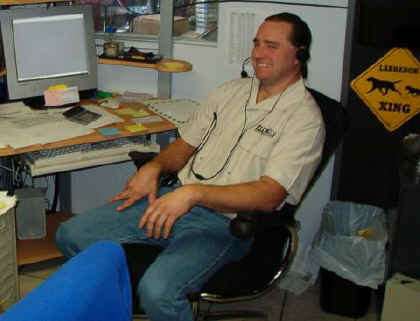 If you should ever have to call in to ATS for support installing their upgrades, odds are you'll get to talk to the boss, Clint Cannon, tranny guru.
Cold Air Intake Systems for your Truck or SUV.
One of the most popular aftermarket options I hear about is permanent air filters (washable) and cold air intake systems. It makes since to get more air to your engine for more power. Air filters are the life of your truck. A diesel drinks 18,000 gallons of air with one gallon of diesel fuel. Back on the farm we use to wash our secondary air filters for tractors about three times before we discarded them. It makes economic since as well as landfill conservation to use an air filter that can last 1,000,000 miles instead of throwing away the paper filters.
aFe, last year introduced air filters and cold air intake systems made for the dirty conditions rural areas have, called Pro-GUARD 7. It's made from 5 layers of progressively finer mesh medical-grade gauze and 2 layers of random-porosity non-woven synthetic fabric. Pro-GUARD 7 is washable and gives your engine more air for more power and better fuel economy with the best engine protection. Truck manufactures factory stock air filters will filter 98 % of the air but dramatically restrict air flow. But so does sticking a sock in it. Pro-GUARD 7 will also filter 98% of the air with maximum air flow.
I appreciate a product I can look at and see the quality difference. That was the first thing I noticed about the aFe OEM replacement air filter, the polyurethane seal was thicker, and softer to fit the trucks air box completely for the seal to convert all the incoming air threw the filter.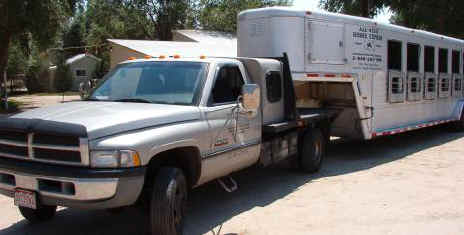 I went to All-State Horse Express in Colorado Springs to install an aFe cold air intake system with the Pro-GUARD 7 filter. These folks have a fleet of Dodge diesel trucks and horse trailers that go cross country daily.
All-State Horse Express puts from 100 to 150,000 miles on each of their 8 horse aluminum trailer. So you can imagine how many miles the trucks go. Darrel Hobbs is in charge of maintaining their trucks and trailers. He services the trucks on the conservative side to ensure the horses get to their destinations without a hitch.
| | | |
| --- | --- | --- |
| | | |
| New aFe box with indicator | Old air box | New air box without filter |
| | | |
| --- | --- | --- |
| | | |
| Stock air filter is flat with a limited surface to suck air. | aFe round filter for the Cold Air Intake System | |
Darrel installed the aFe intake kit below to the 2002 Dodge 3500 cab and chassis to test the performance and economy of the all new Pro-GUARD 7 air filter. I've