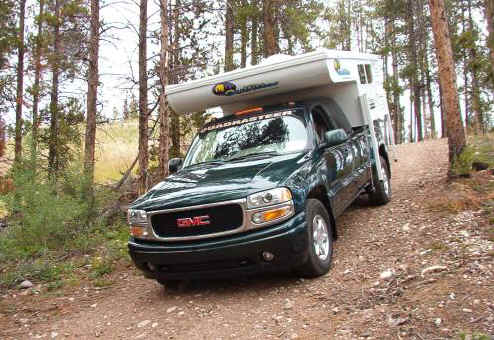 Outfitter Caribou Camper

on the Quadrasteer GMC with leftover capacity to tow a trailer,
Also Reviewing TORKLIFT Frame Mounted Camper Tie Down.
by Mr. Truck
Denver, Colorado
The low profile aluminum framed Caribou Popup Camper from Outfitter in Longmont CO, is ideal for going to remote areas away from the crowds that find the Colorado campsites in the summer. Using the GMC Denali Quadrasteer all-wheel-drive, makes it even easier to go exploring or hunting farther in the wilderness. The Caribou was securely attached to the Quadrasteer with Torklift's Fastgun spring loaded turnbuckles and their frame-mounted tie downs. I love to get lost in the Rocky Mountains while on assignment. So we wondered in the woods on the south side of Lake Dillon, seeing are far we could go.
The compact Caribou goes under trees, threw most drive ins and of course has less wind resistance for better gas mileage than a hard side camper. Hard side campers are also famous for the side wind shuffle that keeps both of your hands firmly on the steering wheel as you suck coffee from a straw trying not to weave into traffic on the winding mountain roads. I try to tow trailers with all the review vehicles that are sent to me. With a light Caribou camper from Outfitter, I have enough of the trucks payload and trailer capacity left over to tow a boat or 2-horse trailer. The GMC Denali extended cab AWS has a trailer capacity of 10,300 lbs. The Caribou popup camper model C6.5 has a dry weight of 850 lbs.
Queen size bed and head room when you crank up the torsion assisted lift system for the roof, this is roughing it in comfort. There's 10 screened closable windows in the soft top so you can feel that great cool mountain breeze in July or check for bears or elk or teenagers out wondering in the woods.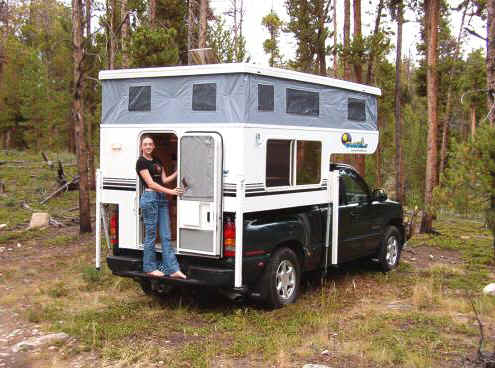 Nothing like turning around in a campsite or boat ramp without reverse. The Outfitter Caribou we used was the C6.5 model for short beds. It has a 6.5' floor plan. There is also a 8' model. We reviewed the larger Apex model last year with the Nissan Titan.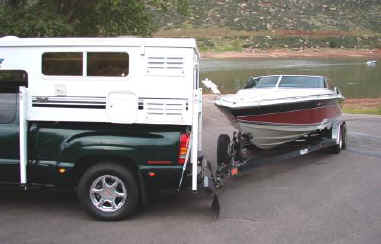 With the this model, you have plenty of room to step up into the camper with a trailer.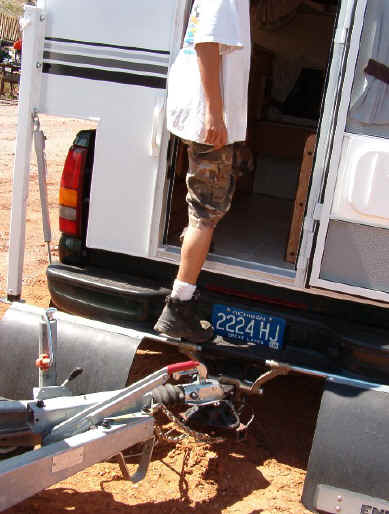 All Outfitter models have;

One piece Rubber roof
Welded aluminum frame
Torsion assisted lift system for the expandable roofline
Vacuum bonded composite walls
Filon High Gloss, UV protected, white FRP Exterior (non-yellowing)
Dow block foam insulation
Insulated Weblon Soft wall
Solar Reflected Windows
3 ft., 3-way refrigerator
Four corner Mechanical Jacks
Polar Aire ventilation system
Shurflo electric water pump
3 Burner high output stove with Piezo ignition
30 Amp power converter with trickle charge
Queen Size Cab-Over Bed
Under bed storage
LPG & Carbon Monoxide Detectors
One 20 to 40 lb LPG bottle with a gauge
Locking Fresh Water Fill
110 Volt & 12 Volt Outlet
Oak Interior Doors
Washable curtains
CD player with AM/FM Radio
Sliding Cab Through Window
Insulated 21 to 32 gallon fresh water supply
Camper Installation Tie Downs with Center Guide
Complete Installation onto Truck
Electronic ignition 16 to 20K BTU furnace

Brian Ward (the boss) demonstrates raising the roof. Brian does his own field testing with Outfitter campers. He's the 3rd generation builder continuing the family business into the 4th decade.

Below shows I had room to park the Caribou next to the garage under the roof & at Sonic for onion rings & a strawberry shake. Try that with a hard side.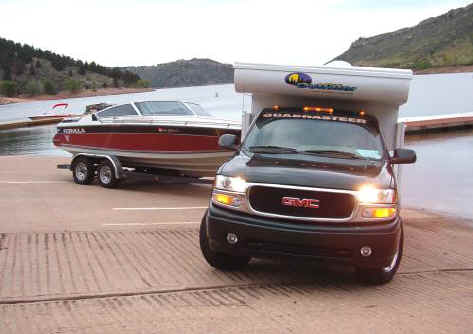 Forget backing down the boat ramp, just do a U-turn in a Quadrasteer. Horsetooth reservoir near Fort Collins CO is a well kept lake and campsite. It was clean, with a good mix of rocks, trees, flowers and Yuca in the campground. But you do have to pay a fee as it's not part of the National Parks or State Parks. It's part of Larimer County. I couldn't find a campsite that challenged the ability of Quadrasteer to back or turn tight. And you know I tried. As test dummy, that's my job, a fun job. Below shows the room at the rear of the camper.