Second look at the all new Ford F150, pulling Sailboats in Colorado.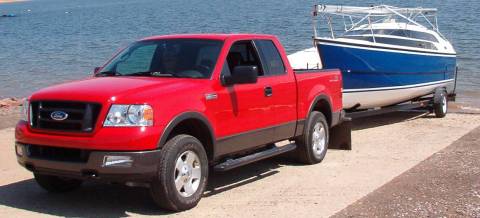 I first drove the all new 2004 Ford F150 in San Antonio TX last June. I was impressed then with the larger, almost a 3/4 ton truck, in a 1/2 ton body. It's selling well, setting records and keeping Ford alive since 9/11 changed the country and the auto buying economy. The truck I'm reviewing is the FX4 Super Cab with the short, short bed. Well that's what I call a 5'6" bed. The very short bed looks a little strange on the Super Cab verses a more balanced look on the SuperCrew with 4 full sized doors. Though a 04 F150 Super Cab with the 6'6" bed has a 6" longer wheelbase than the 2003 model, the 2004 with a 5'6" bed has a 133" wheelbase, 6" shorter wheelbase than last years Super Cab short bed. And yes it does turn shorter. I was surprised parking at Home Depot, only took one try.

I parked next to a old body F150 and even with the 5'6" bed on the 04, it looked much larger than the old model. The new bed is almost 3" deeper than 03 F150's, so it has a huge tailgate. Add that to the new boxy look with more sheet metal and you've got a truck that just looks massive. I loaded a 7' house door, and 8' posts into the bed with the tailgate up. So I guess you gain back 3 inches of the 6 you loose in the new shorter bed option with a taller tailgate, well not quite. (Most of my naps were during math class, with true comatose during English.) The extra 6" the Super Cab has in 04 in the second row of seats, is a big improvement. The seat back there folds up for more floor room that I tested with a Lilac bush. The 1/2 door on the Super Cab has an optional power window, that the kids thought was cool. This truck had the optional "Power Rear Window," which I didn't know for a while. The rear window was slightly open and I'm back there trying to manually close it with no luck. Then as I'm playing with another option, the power moon roof, I discovered another button! Yes it's also cool to push a button and slide the rear window, impressed the dog guarding the Lilac bush.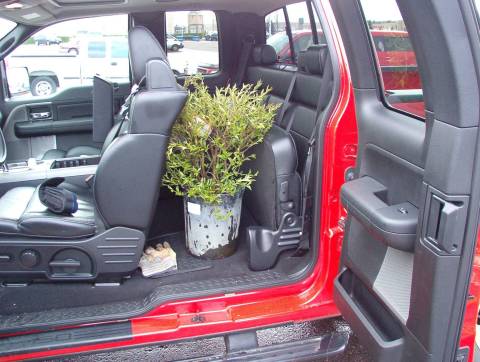 I'm not usually a leather seat fan, but Ford did a good job of making these optional "Sport Leather Captain's Chairs" very comfortable. Made for us wide bodies, though the headrest wants to self-adjust my Stetson. It's getting harder to find a truck you can wear a hat it. And Ford is big on safety with the new F150, getting a 5-star safety rating like a mini-van. The first such rating given to a truck, with second seat headrests and more sheet metal in the doors. You can just look at the door frames on the floor as it gets thick where the second door closes, and see a well built cab, designed for safety.

The tailgate being almost 3" longer, is heavier but Ford added a torsion spring inside, so it lifts easier than the previous models. Though the all new 5.4L V8 engine has a variable cam with 3 valves and cranks out 300 horsepower, it seems subdued when you romp on it. The throttle is "fire by wire" electronically controlled like the Dodge Hemi and Nissan Titan, but doesn't have the same giddy up as those competitors. Ford says engine response is purposely more controlled, which will save on tires I suppose, and increase aftermarket performance chip and exhaust sales for the F150. The improved automatic transmission is luxury car smooth. The whole truck behaves very sophisticated, it hardly reminds you of a truck just 10 years ago. With a beefed up front axle, boxed frame and wider 3 inch leaf springs like big brother the F250, this massive truck is built for work. A year ago in San Antonio Texas, Ford invited the press to drive the new 04 F150 threw pastures, creeks and back roads. I was driving with a reporter from Connecticut, as we tried to bottom out the suspension on potholes that should have bent rims, but we couldn't get the big truck to fail. The Connecticut reporter was asking me what cattle guards were and we stopped many times for him to take pictures of Longhorns. I think he thought they were Elk.
Sailboat class at The Anchorage.

Speaking of Elk, we saw 4 of them swimming a creek above Carter Lake, too shy to be in my picture with the F150 pulling a new 2004 MacGregor 26 from The Anchorage at Lyons Colorado. Sailboats aren't the first thing you think about when Colorado is mentioned, but I bet you didn't know that Colorado was the #1 scuba diving land locked state either. We are fortunate to have great mountain lakes like no one else and we even have a lake that doesn't freeze in the winter, open all year at Pueblo Reservoir. Check it out, it will surprise you how many yachts, 50' (large sailboats, condo's on water) anchor near Pueblo. Of course none of this surprises Steve Linton, owner of The Anchorage in Lyons. You drive right by it on the way to Estes Park. Steve and his wife established The Anchorage in 1984 as the largest specialty Sailboat Dealership in the Rock Mountain West. The Anchorage is a dealership for Catalina, Hunter, Beneteau and the MacGregor that I towed to Carter Lake. As a full service dealership, they offering boat repair, launch services as well as an ASA Sailing School. Steve has many used sailboats as well and folks come from the costs to buy a boat that's in better shape here that what's typical on salt water.

I towed the 2004 MacGregor 26M as in 26', with the 04 F150. Weighing in at 3280#'s, it was unnoticeable behind the F150. The MacGregor less than 8' wide, with disc brakes on it's trailer and a daggerboard that retracts completely into the hull, giving it a low profile on it's trailer. But when in the water, this light boat will float in shallow water and uses water ballast and lowering the daggerboard gives is better performance in the water than the previous 26X model's retractable keel. This is a sailboat that tows like a power boat. And yes it can be a power boat with up to a 90 hp outboard for water skiing at Ogallala. The twin kickup rudders and optional outboard are tied together to the steering wheel instead of a tiller. I've seen the MacGregor at boat and RV shows in Colorado over the years and was impressed with the room in the cabin. This is a boat with a cabin, power, very trailerable, that you could use for sailing, fishing, water skiing all in one. With the price of gas, sailing is more than just fun, it's economical recreation. Vision yourself if you remember "The Way We Were" with Redford and Streisand, there are several scenes on a sailboat relaxing, recalling the "best years". We enjoy watching the sailboats on Dillon Lake set in the middle of a mountain range each summer.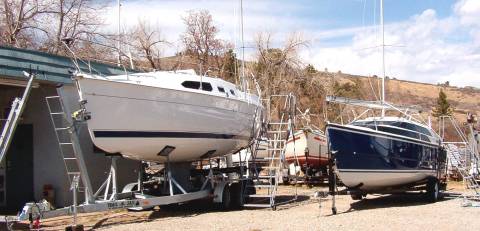 Towable Sailboats, I pulled the MacGregor to Carter Lake with the all new 04 Ford F150. The MacGregor 26M with new for 04 daggerboard parked (above) next a Hunter with fixed wing keel. As you can see above, the MacGregor has a low profile on it's trailer compared to a fixed leaded keel, making it the one of the easiest sailboats to move out of water. Disc brakes, less than 8' wide and water ballast all contribute to it's ease. Replacing the retractable keel of the MacGregor 26X model with the dagger board on the M model improved sailing performance. The cabin on the 26M model, also had a makeover for more useable space below. And the new optional blue hull makes the MacGregor 26M a boat you'll park in the front yard instead of behind the house.

Carter Lake in Larimer County, is popular for all types of boaters, with two wide boat ramps, one is even angled steeper for fixed keel sailboats. The facilities are clean as a county managed lake. Just 10 miles from The Anchorage, a good place for sailing lessons. The Anchorage offers sailing classes threw out the summer. I went to their boat education class this spring. Steve Linton taught an informative session on sailing basics, ballast verses non ballast, weighted keels, centerboards, and Category 1 thru 4 specs on sailboats. On sailboats with the 3 requisites, head, galley and berths, (toilet, cook stove and beds) like the MacGregor, it could be possible to deduct the sailboat loan interest as a second home like RV's. Talk to your accountant. And sailboats are cheaper to insure and have better resail I mean resale value than power boats. The lakes are filling up, it's 90 degrees, why aren't we sailing? More on the boat education class in my next installment.
Check out the largest sailboat dealer in the area at www.TheAnchorage.com or stop by at Lyons Colorado
2004 Ford F150 FX4 SS Super Cab

Base price $31,885

5.4L (330) V-8 300 hp 5000RPM
Torque 365 lb-ft 3750RPM
5'6" bed, 133" wheelbase Super Cab
Two-tone paint, leather Captain's Chairs

Power Rear Window, Moonroof
Trailer Tow Package, running boards
Deluxe Mirror Package
Power Driver's Seat

Reverse Sensing System
Power Adjustable Pedals
D&D $795
Total MSRP: $36,575

2004 MacGregor 26M

| | |
| --- | --- |
| Model | MacGregor 26M |
| Year | 2004 |
| Price | $22,269 at The Anchorage |
| Length | 26 |
| Hull Material | Fiberglass |
| LOA | 25'10" |
| LWL | 23 |
| Beam | 7'10" |
| Draft | 11" Up 5'8" Down |
| Weight | 3,500 lb apprx. on trailer |
| Ballast | 1,400 water ballast |
| Sail | Main 170 /Jib 130/Genoa 206 |
| Fuel | 2-12 gallon tanks |
| Sleeping | 6 |
Come by for a visit at www.MrTruck.com
Checkout more pictures below including Elk swimming away from my camera.





Till next time, Good Truck'n.
Kent Sundling (MrTruck)
http://www.mrtruck.net

See more articles from Mr. Truck